CEO & Founder of Inspiring Stories, Guy Ryan is at the Social Enterprise World Forum in Milan this week – an incredible opportunity that's come out of his Young New Zealander of the Year award. While he's there, he'll be speaking on a panel with the Nobel Peace Prize Winner Muhammad Yunus, who invented microfinance, and other young social entrepreneurs from around the world.
Guy is stoked to have this invaluable experience to find out how we ensure New Zealand is at the cutting edge of social entrepreneurship, and that our young people can kick it on a global stage (while changing the world, obviously!). He's learning heaps, so stay tuned, but he mentioned these three awesome humans you should totally check out:

Durreen Shahnaz –  Impact Investment Shujog, Singapore.


An incredible social entrepreneur. From being the first Bangladeshi woman to work on Wall Street, she has gone on to establish three hugely successful enterprises, and is about to launch a major fourth – the sustainability bond, backed by backed by Rockefeller.

Check out her TED Talk!


Sophia Grinvalds, AFRIpads, Uganda.
Sophia was on a 'gap year' after uni, doing some volunteering in Uganda, when she realised that young women had little to no access to sanitary pads. They were dropping out of school, using all sorts of unhealthy alternatives. Apparently, there is data for the economic implications of this in the neighbouring country, Rwanda, and it is thought to cost the economy an estimated $150 million a year – Uganda is four times the size of Rwanda. Sophia, there with her boyfriend and now husband, decided to try and fix the problem. She start a local business – getting a few local girls together to design and create 'Afripads', in a tiny rural village with no electricity. The pads are locally made, washable, and the business provides employment to many local young women in what was previously a hugely deprived area. Six years on, Afripads is cranking, and has served the needs of more than 600,000 young women in Uganda. They're now working to scale to East Africa, and the whole of Africa within the next five years. Incredible!


3. Young Social Entrepreneurs from the UK – Ruth and Amy from HiSbe.
Ruth and Amy, who are from Brighton in the UK, are Founders & Directors of HiSbe food. They are reinventing the way UK supermarkets do business. What if you could transform the way the UK does food so that supermarkets actually serve the needs and wellbeing of people and planet, not private commercial gain? HisBe stands for "how it should be done". That means creating an chain of independent supermarkets with a social enterprise model, fit for the 21st century. The pilot store opened in Dec 2013, in Brighton. The focus is on local, sustainable, welfare. And HiSbe is working to erode the high cost usually associated with good organic food.Since the pilot in 2013, they've turned over $1.7m Euros, serving about 200 customers a week, and the community loves it. The store also benefits 80 local producers. All employees are paid above living wage, and the store supports local food entrepreneurs. This has become a beacon for social enterprise, and has helped to transform what was a very deprived community. This gives us hope for what could be done in New Zealand.



http://livethedream.org.nz/wp-content/uploads/2016/07/HeaderLogo_LivetheDream.jpg
0
0
Guy Ryan
http://livethedream.org.nz/wp-content/uploads/2016/07/HeaderLogo_LivetheDream.jpg
Guy Ryan
2015-07-03 01:55:48
2015-08-15 02:02:13
3 amazing social entrepreneurs you need to know about
Crew and Dreamers alike began Live the Dream with no solid idea of where the journey would take them. Some of our participants had strong ideas about their ventures, while others knew they had a lot of work to do, but I can safely say that all eighteen ventures that entered came out the other end looking completely different. There were name changes, team changes, indeed idea changes- but this is what Live the Dream is about, creating an incubator where the little seedling ventures can be fed the right nutrients by the right people at the right time- and boy, did we get some good grub.
Meeting all together for the first time at the Marae weekend was an incredible way to begin the journey, as it helped create solid foundations for the bonds that were established during the 10 weeks we all spent together. The vibe created made our place feel accepting, warm, and lovely, a space where all our dreamers felt they were being supported and encouraged, while at the same time, respected. Live the Dream is about preparing ventures for the real world- and it's tough out there, as founder and Inspiring Stories Trust CEO Guy Ryan said during the first check-in on the first day, over half of start-ups fail within the first year.
Being a part of this programme is in no way a guarantee of success, but what I will say is that it takes a special type of person to dedicate 10 weeks of their life to this kind of endeavour. Some of our participants quit their job to be involved, like Michael from YOMO, HG and Abbie of Inkling even moved down to Wellington, as did Bonnie and Camia, while others put their studies on hold such as Oliver from Grow Aotearoa. Needless to say, everyone involved this summer has a lot on the line, but even more to gain.
Regardless of the ways that we all got involved with Live the Dream, Wellington welcomed this programme with open arms. From the beautiful space that the Victoria University Faculty of Architecture and Design provided us, the YHA beds for participants from out of town, to the countless contributors, mentors and founders who delivered presentations and talks, we received nothing but acceptance. As Bonnie Howland said, 'they [the crew] are so supportive, and it's not just here but the whole of Wellington, everyone wants to help you'.
Each week that flew by saw specific goals being reached, whether by the number of validation interviews conducted, the number of pitches practiced, or the completion of MVP'S. Not all aspects of Live the Dream was about working though, a whole lot of time was dedicated to having a fun break, from weekly Wednesday shared lunches where we enjoyed Gemma's mad baking skills and Nedra's delicious concoctions, to Connor's crazy dance moves at the Christmas break-up party!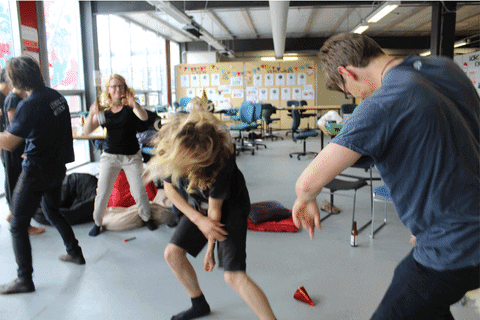 The Final Showcase event was a night filled with good vibes, support, encouragement and love. Over 230 people packed into the beautiful Mac's function center to watch the nine ventures pitch their ideas, and launch them into the world. Not only did each speaker do themselves proud, they did us proud too. As Tamas said, 'it was like watching my children, I feel like a proud father'- having spent his summer helping to develop these ventures, I could see where he was coming from. That emotion radiated throughout the entire audience; from the hilarious jokes Nick cracked to the commanding way Bart moved across that stage like a seasoned professional, I do not believe a single person left that night having not been touched or moved in a certain way. How could they not have? The beauty of Live the Dream is that it doesn't discriminate across genres, demographics or topics; as long as the heart of an idea is to see social change and make a positive impact, anything is acceptable, and through Live the Dream, anything is possible.
You've probably all wondered what the core crew think of Live the Dream, why they wanted to be involved, and indeed where this entire idea come from. It was an enormous pleasure to have spoken to the three programme facilitators Sophie Tricker, Kate Beecroft and Tamas Hovanyecz, as well as the man himself, our CEO Guy Ryan.
Guy Ryan, CEO of Inspiring Stories and Young NZer of the Year 2015;
1. Where did the idea for LTD come from?
The idea for Live the Dream came from a few influences. In the 20th century entrepreneurship was about building enterprise for private commercial gain, often at the expense of society and/or the environment. In the 21st century, entrepreneurship has to be about creating value for people and planet.
When I was at Uni I started getting really interested in the idea of social entrepreneurship and enterprise. I felt NZ had some good supports for high-growth commercial enterprise but big gaps, especially for young people, who were more interested in growing ideas to make a difference socially or environmentally. Universities had empty campuses over summer, and students had time on their hands.
Live the Dream started as an idea. We bootstrapped it from day one, built the brand, and launched the very first 'call for ideas' all on less than $1,000. That was September 2013 – things have come a long way since then. Now with three successful programmes under our belt, we're working to strengthen pre and post-programme support, and running the programme across Dunedin, Christchurch, Wellington and Auckland next summer.
2. What is the pain that LTD is trying to solve in the world?
We're living in a world with increasingly complex and urgent problems that need solving – social, environmental and economic. Live the Dream is about giving young people access to some of New Zealand's most brilliant minds to understand these complexities, and grow ideas that have the potential to make a real difference. Live the Dream is a flagship programme created and run by Inspiring Stories – we're growing a generation of young New Zealanders who can, and will change the world.
3. How, in your opinion, does LTD help combat NZ's social issues?
Whilst they're amazing, the ventures that come out of LTD are also early-stage. Perhaps the most important thing LTD does is give young people a mandate to make a difference, to better understand the issues, to connect with leading expertise, and have a go at creating a venture that has the potential to make a real difference and be financially sustainable.
The reality is that the start-up game is hard, and it's estimated that more than 90% of start-ups fail within the first three years. Inspiring Stories for example is my fourth start-up, and by far the most successful because it builds on all of those previous learning's and mistakes. Our hope and what we're seeing already, is that even if participants who come through LTD try to take their ventures forward and fail, that they will learn from it and go on to do great things for our communities, nation and beyond.
4. How is LTD different from other accelerator programmes?
LTD combines the best of commercial with social and environmental. The strong focus on growing young social entrepreneurs and their ventures has a powerful sense of purpose, which has attracted interest and support from a diverse range of remarkable people and organisations. It's also full-immersion, with participants diving right into full-time venture development Monday–Friday, 9–5, for 10-weeks over summer. There's nothing else quite like LTD in New Zealand, and it builds directly on the global social enterprise movement.
5. In what ways do you stay passionate?
I love this stuff – the challenge of leading a purpose-driven organization, the people and partners we get to work with. We've definitely had our share of hardships too though. Getting through those tough times I always try to stay focused on the big picture, stay connected to people who inspire me and push my boundaries, and go surfing whenever I get the chance!
Sophie Tricker, Programme Operations & Superwoman;
1. What attracted you to being a core crew member for this years LTD
I was working for the [Inspiring Stories] Trust on a 2 month contract coordinating the film competition and marketing and comms back in September when Guy asked me if I was up for the challenge to help run Live the Dream. New to socent [social enterprise], and relatively new to IST, I was like, 'yes! I'm keen'.
2. How have your previous experiences helped you in your position this year
Client interaction, people and communications, organisation and producing has always been a focus in my past roles. LTD was an accumulation of all of this, but there were new challenges like the recruiting and managing our 3 awesome interns! I have been lucky enough to build my skills at being a generalist and I've loved the diversity of each day and being able to be across a variety of 'disciplines'.
3. Tell us your three main highlights from the programme
One that resonates is the most recent Final Showcase event and feeling extremely proud to be part of that whole thing. Developing a relationship with Victoria University has been a delight. My main takeaway from the whole Live the Dream experience has been the ability and exposure to connect with so many awesome people in this city. I've had the pleasure of meeting every one of our external contributors and forming some great relationships which I'm extremely grateful for.
4. Why do you think there is a need for social enterprise in NZ, and do you think LTD will be a core part of solving our social issues.
Social enterprise seems to make so much sense to me – a business that impacts people, the planet and communities for the better. I'm still sometimes amazed it's still 'new' to NZ. Live the Dream is another channel available with backing and support for amazing people, that helps give social entrepreneurs a step in the right direction, getting these socent ventures off the ground – and I think that's important.
5. Has being a core part of the LTD programme this year contributed to the change you want to see in the world
Being part of LTD has made me realise that whatever I do in the future, I want to help people. There are so many ways you can do that and I've been lucky enough to be surrounded by participants, crew and contributors day in and day out, who are helping people in the ways that they can, and that's invigorating. Warm fuzzies all round!
6. Anything else you'd like to add?
Yes. I would like to add a massive thank you to YOU, Rachael Short! And Sean William Harris and Eva Lu for the amazing support and work you guys put in (unpaid!) for the whole 10 weeks. You've been the best intern team and our whole crew has been pretty unique – thank you for contributing to the core team, the good vibes, laughs and hard work! #legends
Tamas Hovanyecz, Programme Facilitator & Hungarian helper;
1. What was it that drove you to apply to work on an excellerator programme this summer, in NZ of all places?
Funny story: in the past year my attention was drawn from commercial startups to social enterprises. I came out to NZ for a year of experiencing the local cultural and the kiwi way of doing things but ended up freelancing for an Australian social enterprise that builds a child protection system. The more I dug into the [socent] topic the more I know that I found my path, after having been involved with startups and working for an investment bank. So when I had enough of messing around I googled social entrepreneurship in NZ and I found Live the Dream's website. I took my chances and emailed Guy my CV. Two days later we had an interview and a week later they wanted me to fly up to Auckland to spend a day with the team… the rest is history.
2. Will what you've learnt here help you in starting up and running your own ventures/programmes?
I've always been passionate about education and participated in various educational related initiatives. Being part of LTD helped me realise that knowledge sharing is what I really want to do. Facilitating the programme doesn't mean that we know everything involved with building an enterprise. Mostly seeing the big picture from the facilitator's (outside) perspective is what helped me  coordinate a new initiative which we call SocialFokus. SocialFokus was born due to myself being on the  core crew of Live the Dream, and focuses on building people, motivating them to get to know a problem from all angles so when it comes to prototyping various solution ideas they are fully aware of what the teams want to solve. As part of that we're organising workshops in the upcoming months in Tonga, Malaysia and Budapest.
3. How does LTD differ from other social enterprise initiatives you've been involved in overseas?
LTD and the whole social entrepreneurial world in New Zealand is very collaborative and the rest of the world should learn from how things are getting done here. It was fascinating to see the various stakeholders excitement towards social enterprises and their attitude towards implementing new projects and products. This is the first place where I have heard things like 'don't build a new platform – put it on Chalkle, it's open source anyway'.
4. What is the change you want to see in the world, and have being a part of LTD this summer help realize that dream in any away.?
I want to see young people being given the opportunity, knowledge and skill set throughout their education that enables them to build enterprises that solve problems on a local level. LTD and the community here in Wellington have had a huge impact on me. I have learnt so much from every single person I met in the last three months and due to their support and energy I truly feel enabled and motivated to start making this change happen.
5. How do you stay passionate?
Working with young people, whether in an accelerator or in the South of France where I facilitate outdoors education helps me see the world through a different lens. Being surrounded by the younger generation gives me the opportunity to understand the future needs and through that stay innovative. And that allows me hold onto my passion, which is to have an impact on the world no matter how small or big it might be.

Kate Beecroft , Programme Facilitator, Connector & Catalyzer
1. What has been your experience with social enterprise?
I've worked in business development and marketing for All Good Organics which is a socially purposeful business and from that time, I started to learn about how business can be used for social and environmental goals. I've also spent time working on social enterprise Bucky Box and was a cofounder of another socent.
3. How does teaching/facilitating social enterprise and entrepenurial projects/programmes contribute to your goals and your own ventures?
By going deeply into the principals of lean methodology and design thinking and applying and combining that with social impact means that I've approached my own business and my own social entrepreneurial endeavors with more rigor and more awareness around financial sustainability and translating impact with value.
4. Why were you drawn to LTD in the first place?
Through two friends, I'd learnt of the pilot programme last year and thought it would be a good way to put into practice my experience of going through an accelerator – my forays into the start up world and starting my own small business.
5. Has being a core part of the LTD programme this year contributed to the change you want to see in the world?
Yes, being one of the coordinators of LTD has enabled me to see that anyone anywhere can be a social entrepreneur if they have the tools and support. It's been really heartening to see so many different people compelled to try and make a difference in the world via an enterprise.
6. You're the queen of networking, what are you 2 tips for building maintaining business connections?
I'd say have lots of coffee with people, be curious, ask questions and always be open to a chat on Cuba Street no matter how late it's going to make you for your next meeting!
. . . . . . . . . . . . . . . . . . . . . . . . . . . . . . . . . . . . . . . . . . . . . . . . . . . . . . . . . . . . . . . . . . . . . . . . . . . . . . . .
It has been such a privilege to have been involved with Live the Dream this summer. Being exposed to so many incredible people. ideas and new concepts has really changed me as a person, opened up an entire new world and changed my mindset. Thank you to Sophie Tricker for your never ending patience, support and for helping me sort out my little life problems. Thank you to Kate Beecroft, you're one of the coolest people I've ever met, so insanely intelligent and one day I hope to be as articulate as you. Thank you to Tamas Hovanyecz for being sooooo nice (haha), for your good humour and genuine care. Thank you to my two awesome intern buddies, Sean Harris and Eva Lu, you're both lights in my life and Eva, you can be a fat unicorn. And thank you to Guy Ryan for calling me a #legend every chance you got. What an inspiring journey, and an even more inspiring opportunity.
Over and out.
Rachel.
http://livethedream.org.nz/wp-content/uploads/2016/07/HeaderLogo_LivetheDream.jpg
0
0
Rachael Short
http://livethedream.org.nz/wp-content/uploads/2016/07/HeaderLogo_LivetheDream.jpg
Rachael Short
2015-03-06 01:07:27
2015-08-15 01:54:20
"Encouragement, Support, & Good Vibes" // WGN // Overview
Time has gone by so fast! We have come to the end of the programme; the teams have worked their hearts out, pitched their passions and have gone on their way to create change in New Zealand and beyond. For many this is only the beginning and we recognise the strange transition from working in a collaborative space to working individually is not an easy feat.
It's been a crazy ride filled with smiles, kindness and laughter of those determined enough to take on this journey. We've shed both tears of joy and frustration as we struggled with the challenge of wrapping our minds around the amount of content squashed into a tiny ten weeks. We've shaken hands with new business contacts across Auckland who've gone on to become our ambassadors and champions. We've had tea and cake with those who've continued to support us through our journey and it's a privilege to say that they'll remain life-long friends, mentors and partners.
We've built a family over the last ten weeks; one of doers, of change makers, of those that really do want to see a difference and those who strive towards that everyday. This isn't an opportunity that you get everyday. But it sure is one that you should take if you ever get the chance.
On the night of Wednesday 18th February over 150 people took their seats in the beautiful KPMG building right on the Auckland waterfront and nestled in for a night of enlightenment. Enlightenment in the sense that all of the teams spoke with an enthusiasm and a passion that they brought with them the first time they retold their story and their venture. Each participant spoke with the pride and conviction of an idea bigger than just ten weeks in the making. What an incredible night it was, so thank you to our amazing audience members and the team at KPMG because without you the night wouldn't have been the raving success it was! Once again a huge congratulations to our ventures who took on the challenge and welcomed it with open arms, fears were conquered and nerves put aside, you guys did an awesome job! For more photos visit our Facebook page and to catch all of the live action visit Twitter!
Wishing all of our Live the Dream 14/15 teams the best of luck for their ventures, future projects and for the challenges they will face along the way. You're an incredible bunch, go show the world just that!
—
I (Nelzy) would also like to take this time to reflect on the Live the Dream experience and to thank those who have taken the time out of their busy schedules to read my posts and re-live each person's story. I truly believe that this summer has changed me for the better; I will treasure the friendships that I have made with such a diverse and inspirational pool of people, of whom I would never have gotten the chance to meet otherwise. It has been an absolute pleasure to do an interview each week and to hear such a true story, one from the heart and to hear the passion, conviction and belief in each and every idea. These people are change makers, I know it. They each possess the ability to build and to grow, to be resilient yet open, and to remain true to themselves and their ideas. It has been a pleasure to be a part of Live the Dream and to share these stories, thank you for reading!
I would like to leave you with something to ponder, words of wisdom shared with us on our last day from the lovely Rupert Ross, he said…
"What will you do with the time that is given to you?"
http://livethedream.org.nz/wp-content/uploads/2016/07/HeaderLogo_LivetheDream.jpg
0
0
Nelzy Collins
http://livethedream.org.nz/wp-content/uploads/2016/07/HeaderLogo_LivetheDream.jpg
Nelzy Collins
2015-02-27 05:35:59
2015-02-27 05:35:59
"What will you do with the time that is given to you?" // Week#10 AKL Final Showcase