Crew and Dreamers alike began Live the Dream with no solid idea of where the journey would take them. Some of our participants had strong ideas about their ventures, while others knew they had a lot of work to do, but I can safely say that all eighteen ventures that entered came out the other end looking completely different. There were name changes, team changes, indeed idea changes- but this is what Live the Dream is about, creating an incubator where the little seedling ventures can be fed the right nutrients by the right people at the right time- and boy, did we get some good grub.
Meeting all together for the first time at the Marae weekend was an incredible way to begin the journey, as it helped create solid foundations for the bonds that were established during the 10 weeks we all spent together. The vibe created made our place feel accepting, warm, and lovely, a space where all our dreamers felt they were being supported and encouraged, while at the same time, respected. Live the Dream is about preparing ventures for the real world- and it's tough out there, as founder and Inspiring Stories Trust CEO Guy Ryan said during the first check-in on the first day, over half of start-ups fail within the first year.
Being a part of this programme is in no way a guarantee of success, but what I will say is that it takes a special type of person to dedicate 10 weeks of their life to this kind of endeavour. Some of our participants quit their job to be involved, like Michael from YOMO, HG and Abbie of Inkling even moved down to Wellington, as did Bonnie and Camia, while others put their studies on hold such as Oliver from Grow Aotearoa. Needless to say, everyone involved this summer has a lot on the line, but even more to gain.
Regardless of the ways that we all got involved with Live the Dream, Wellington welcomed this programme with open arms. From the beautiful space that the Victoria University Faculty of Architecture and Design provided us, the YHA beds for participants from out of town, to the countless contributors, mentors and founders who delivered presentations and talks, we received nothing but acceptance. As Bonnie Howland said, 'they [the crew] are so supportive, and it's not just here but the whole of Wellington, everyone wants to help you'.
Each week that flew by saw specific goals being reached, whether by the number of validation interviews conducted, the number of pitches practiced, or the completion of MVP'S. Not all aspects of Live the Dream was about working though, a whole lot of time was dedicated to having a fun break, from weekly Wednesday shared lunches where we enjoyed Gemma's mad baking skills and Nedra's delicious concoctions, to Connor's crazy dance moves at the Christmas break-up party!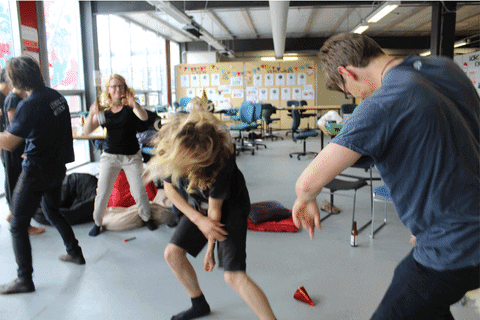 The Final Showcase event was a night filled with good vibes, support, encouragement and love. Over 230 people packed into the beautiful Mac's function center to watch the nine ventures pitch their ideas, and launch them into the world. Not only did each speaker do themselves proud, they did us proud too. As Tamas said, 'it was like watching my children, I feel like a proud father'- having spent his summer helping to develop these ventures, I could see where he was coming from. That emotion radiated throughout the entire audience; from the hilarious jokes Nick cracked to the commanding way Bart moved across that stage like a seasoned professional, I do not believe a single person left that night having not been touched or moved in a certain way. How could they not have? The beauty of Live the Dream is that it doesn't discriminate across genres, demographics or topics; as long as the heart of an idea is to see social change and make a positive impact, anything is acceptable, and through Live the Dream, anything is possible.
You've probably all wondered what the core crew think of Live the Dream, why they wanted to be involved, and indeed where this entire idea come from. It was an enormous pleasure to have spoken to the three programme facilitators Sophie Tricker, Kate Beecroft and Tamas Hovanyecz, as well as the man himself, our CEO Guy Ryan.
Guy Ryan, CEO of Inspiring Stories and Young NZer of the Year 2015;
1. Where did the idea for LTD come from?
The idea for Live the Dream came from a few influences. In the 20th century entrepreneurship was about building enterprise for private commercial gain, often at the expense of society and/or the environment. In the 21st century, entrepreneurship has to be about creating value for people and planet.
When I was at Uni I started getting really interested in the idea of social entrepreneurship and enterprise. I felt NZ had some good supports for high-growth commercial enterprise but big gaps, especially for young people, who were more interested in growing ideas to make a difference socially or environmentally. Universities had empty campuses over summer, and students had time on their hands.
Live the Dream started as an idea. We bootstrapped it from day one, built the brand, and launched the very first 'call for ideas' all on less than $1,000. That was September 2013 – things have come a long way since then. Now with three successful programmes under our belt, we're working to strengthen pre and post-programme support, and running the programme across Dunedin, Christchurch, Wellington and Auckland next summer.
2. What is the pain that LTD is trying to solve in the world?
We're living in a world with increasingly complex and urgent problems that need solving – social, environmental and economic. Live the Dream is about giving young people access to some of New Zealand's most brilliant minds to understand these complexities, and grow ideas that have the potential to make a real difference. Live the Dream is a flagship programme created and run by Inspiring Stories – we're growing a generation of young New Zealanders who can, and will change the world.
3. How, in your opinion, does LTD help combat NZ's social issues?
Whilst they're amazing, the ventures that come out of LTD are also early-stage. Perhaps the most important thing LTD does is give young people a mandate to make a difference, to better understand the issues, to connect with leading expertise, and have a go at creating a venture that has the potential to make a real difference and be financially sustainable.
The reality is that the start-up game is hard, and it's estimated that more than 90% of start-ups fail within the first three years. Inspiring Stories for example is my fourth start-up, and by far the most successful because it builds on all of those previous learning's and mistakes. Our hope and what we're seeing already, is that even if participants who come through LTD try to take their ventures forward and fail, that they will learn from it and go on to do great things for our communities, nation and beyond.
4. How is LTD different from other accelerator programmes?
LTD combines the best of commercial with social and environmental. The strong focus on growing young social entrepreneurs and their ventures has a powerful sense of purpose, which has attracted interest and support from a diverse range of remarkable people and organisations. It's also full-immersion, with participants diving right into full-time venture development Monday–Friday, 9–5, for 10-weeks over summer. There's nothing else quite like LTD in New Zealand, and it builds directly on the global social enterprise movement.
5. In what ways do you stay passionate?
I love this stuff – the challenge of leading a purpose-driven organization, the people and partners we get to work with. We've definitely had our share of hardships too though. Getting through those tough times I always try to stay focused on the big picture, stay connected to people who inspire me and push my boundaries, and go surfing whenever I get the chance!
Sophie Tricker, Programme Operations & Superwoman;
1. What attracted you to being a core crew member for this years LTD
I was working for the [Inspiring Stories] Trust on a 2 month contract coordinating the film competition and marketing and comms back in September when Guy asked me if I was up for the challenge to help run Live the Dream. New to socent [social enterprise], and relatively new to IST, I was like, 'yes! I'm keen'.
2. How have your previous experiences helped you in your position this year
Client interaction, people and communications, organisation and producing has always been a focus in my past roles. LTD was an accumulation of all of this, but there were new challenges like the recruiting and managing our 3 awesome interns! I have been lucky enough to build my skills at being a generalist and I've loved the diversity of each day and being able to be across a variety of 'disciplines'.
3. Tell us your three main highlights from the programme
One that resonates is the most recent Final Showcase event and feeling extremely proud to be part of that whole thing. Developing a relationship with Victoria University has been a delight. My main takeaway from the whole Live the Dream experience has been the ability and exposure to connect with so many awesome people in this city. I've had the pleasure of meeting every one of our external contributors and forming some great relationships which I'm extremely grateful for.
4. Why do you think there is a need for social enterprise in NZ, and do you think LTD will be a core part of solving our social issues.
Social enterprise seems to make so much sense to me – a business that impacts people, the planet and communities for the better. I'm still sometimes amazed it's still 'new' to NZ. Live the Dream is another channel available with backing and support for amazing people, that helps give social entrepreneurs a step in the right direction, getting these socent ventures off the ground – and I think that's important.
5. Has being a core part of the LTD programme this year contributed to the change you want to see in the world
Being part of LTD has made me realise that whatever I do in the future, I want to help people. There are so many ways you can do that and I've been lucky enough to be surrounded by participants, crew and contributors day in and day out, who are helping people in the ways that they can, and that's invigorating. Warm fuzzies all round!
6. Anything else you'd like to add?
Yes. I would like to add a massive thank you to YOU, Rachael Short! And Sean William Harris and Eva Lu for the amazing support and work you guys put in (unpaid!) for the whole 10 weeks. You've been the best intern team and our whole crew has been pretty unique – thank you for contributing to the core team, the good vibes, laughs and hard work! #legends
Tamas Hovanyecz, Programme Facilitator & Hungarian helper;
1. What was it that drove you to apply to work on an excellerator programme this summer, in NZ of all places?
Funny story: in the past year my attention was drawn from commercial startups to social enterprises. I came out to NZ for a year of experiencing the local cultural and the kiwi way of doing things but ended up freelancing for an Australian social enterprise that builds a child protection system. The more I dug into the [socent] topic the more I know that I found my path, after having been involved with startups and working for an investment bank. So when I had enough of messing around I googled social entrepreneurship in NZ and I found Live the Dream's website. I took my chances and emailed Guy my CV. Two days later we had an interview and a week later they wanted me to fly up to Auckland to spend a day with the team… the rest is history.
2. Will what you've learnt here help you in starting up and running your own ventures/programmes?
I've always been passionate about education and participated in various educational related initiatives. Being part of LTD helped me realise that knowledge sharing is what I really want to do. Facilitating the programme doesn't mean that we know everything involved with building an enterprise. Mostly seeing the big picture from the facilitator's (outside) perspective is what helped me  coordinate a new initiative which we call SocialFokus. SocialFokus was born due to myself being on the  core crew of Live the Dream, and focuses on building people, motivating them to get to know a problem from all angles so when it comes to prototyping various solution ideas they are fully aware of what the teams want to solve. As part of that we're organising workshops in the upcoming months in Tonga, Malaysia and Budapest.
3. How does LTD differ from other social enterprise initiatives you've been involved in overseas?
LTD and the whole social entrepreneurial world in New Zealand is very collaborative and the rest of the world should learn from how things are getting done here. It was fascinating to see the various stakeholders excitement towards social enterprises and their attitude towards implementing new projects and products. This is the first place where I have heard things like 'don't build a new platform – put it on Chalkle, it's open source anyway'.
4. What is the change you want to see in the world, and have being a part of LTD this summer help realize that dream in any away.?
I want to see young people being given the opportunity, knowledge and skill set throughout their education that enables them to build enterprises that solve problems on a local level. LTD and the community here in Wellington have had a huge impact on me. I have learnt so much from every single person I met in the last three months and due to their support and energy I truly feel enabled and motivated to start making this change happen.
5. How do you stay passionate?
Working with young people, whether in an accelerator or in the South of France where I facilitate outdoors education helps me see the world through a different lens. Being surrounded by the younger generation gives me the opportunity to understand the future needs and through that stay innovative. And that allows me hold onto my passion, which is to have an impact on the world no matter how small or big it might be.

Kate Beecroft , Programme Facilitator, Connector & Catalyzer
1. What has been your experience with social enterprise?
I've worked in business development and marketing for All Good Organics which is a socially purposeful business and from that time, I started to learn about how business can be used for social and environmental goals. I've also spent time working on social enterprise Bucky Box and was a cofounder of another socent.
3. How does teaching/facilitating social enterprise and entrepenurial projects/programmes contribute to your goals and your own ventures?
By going deeply into the principals of lean methodology and design thinking and applying and combining that with social impact means that I've approached my own business and my own social entrepreneurial endeavors with more rigor and more awareness around financial sustainability and translating impact with value.
4. Why were you drawn to LTD in the first place?
Through two friends, I'd learnt of the pilot programme last year and thought it would be a good way to put into practice my experience of going through an accelerator – my forays into the start up world and starting my own small business.
5. Has being a core part of the LTD programme this year contributed to the change you want to see in the world?
Yes, being one of the coordinators of LTD has enabled me to see that anyone anywhere can be a social entrepreneur if they have the tools and support. It's been really heartening to see so many different people compelled to try and make a difference in the world via an enterprise.
6. You're the queen of networking, what are you 2 tips for building maintaining business connections?
I'd say have lots of coffee with people, be curious, ask questions and always be open to a chat on Cuba Street no matter how late it's going to make you for your next meeting!
. . . . . . . . . . . . . . . . . . . . . . . . . . . . . . . . . . . . . . . . . . . . . . . . . . . . . . . . . . . . . . . . . . . . . . . . . . . . . . . .
It has been such a privilege to have been involved with Live the Dream this summer. Being exposed to so many incredible people. ideas and new concepts has really changed me as a person, opened up an entire new world and changed my mindset. Thank you to Sophie Tricker for your never ending patience, support and for helping me sort out my little life problems. Thank you to Kate Beecroft, you're one of the coolest people I've ever met, so insanely intelligent and one day I hope to be as articulate as you. Thank you to Tamas Hovanyecz for being sooooo nice (haha), for your good humour and genuine care. Thank you to my two awesome intern buddies, Sean Harris and Eva Lu, you're both lights in my life and Eva, you can be a fat unicorn. And thank you to Guy Ryan for calling me a #legend every chance you got. What an inspiring journey, and an even more inspiring opportunity.
Over and out.
Rachel.
http://livethedream.org.nz/wp-content/uploads/2016/07/HeaderLogo_LivetheDream.jpg
0
0
Rachael Short
http://livethedream.org.nz/wp-content/uploads/2016/07/HeaderLogo_LivetheDream.jpg
Rachael Short
2015-03-06 01:07:27
2015-08-15 01:54:20
"Encouragement, Support, & Good Vibes" // WGN // Overview
Five weeks have gone by, and 5 weeks remain. We've reached the half way point of our summer as the days heat up and the nights resolve. The social enterprise spirit is strong in Wellington this summer, and on Thursday we got the opportunity to meet some other like minded young people when Live the Dream and VicLink Bootcamp combined in an epic Pitch Den practice like no other.
Getting to see how other people are targeting entrepreneurial issues, and how they're style of pitching relates to their product has been valuable for our participants, especially as we lead up to the interim pitch night. This will be a chance for everybody to pitch their ventures in a real-life environment for the first time, in front of the crowd of individuals who have supported, advised and presented to our venture teams; all in grand preparation for the Final Showcase on Thursday the 19th of February!
This week I got to interview Bart de Vries who is working full time on his venture, FitFlock.
Tell me a little bit about what FitFlock is…
FitFlock is [going to become] an app and a website, which is going to solve the trouble that people are experiencing when trying to connect with the activities around them – not only that but the FUN activities. FitFlock will give people knowledge of these fun, and often free activities and will hopefully help society realize that being active and moving is not just about exercising, it's about finding activities you love to do which at the same time are catered for movement- i.e. Salsa, paddle boarding, rock climbing… Insert fun activity here.
How did FitFlock begin?
It began through the end of something else. A hear and a half ago, I started this Dutch Waffle company with some friends- so the fattiest, sugariest treat you could imagine. Then the new OECD rankings came out for obesity in New Zealand, and the results showed that we are the third most obese country in the world, which means 2/3 of people in New Zealand are overweight, just behind the USA and Mexico.
It was a huge 'WOW' moment for me, so we shut the waffles down straight away. Even though we were having so much fun, and had a whole plan in place, we saw ourselves adding to this pain that New Zealand, and the World, has right now. Instead of adding to that pain, I wanted to be a part of something that attempted to change and heal it, so the idea of FitFlock was born.
How is FitFlock going to differentiate from other apps, like say Meetup?
Meetup covers a whole range of topics and activities, whereas FitFlock is purely for physical activity.
In Wellington alone, there are tonnes of amazing things going on and the FitFlock app will be able to effortlessly connect its users to these activities, filling the gap in that market that connect users to these fun activities.
So is FitFLock being developed primarily for Wellington?
Right now, yes. But there is room to scale. I don't see any reason why we can't export it, and go to Melbourne, I can see it getting that big that I could go to New York, and be able to go on the app and instantly know what activities are going on on that day, in that place.
We've had emphasis on team culture this week, tell me, how does the FitFlock team fit together?
I'm coming through the programme full time, and then we have Rodney who is a personal trainer and comes in sometimes, and is a Masters student studying physiology and neuroscience. His interest is in behavior change, understanding how people work, so he's getting stuck into the research side of things. Abigail is our other member on the side. She is a programmer, and is going to lead the development of the app.
Tell me a bit about your background Bart?
I've been in Physiotherapy for 7 years in Wellington, working mainly with sports teams. I also have played hockey for Wellington for a few years, and prior to that, I played Hockey professionally in Holland for two seasons. what I really wanted was to begin working on a larger positive impact in teh greater scheme of things, and find something that I could help out with for the rest of my life so I took the leap and applied to Live the Dream when I found out that applications were open to apply last year. I have been fortunate enough to have supporters from a successful PledgeMe campaign ran last year that is helping me get through the programme.
You've been promoting FitFlock with Boost classes. Tell me how that all came about?
Boost started through me wanting to get fitter, wanting to move better, and doing something everyday that would help me to move better. I also wanted to take my skills as a physio and share them. So I run 20-minute Boost classes out the front of parliament, 12.30 every workday. The reaction has been awesome! We're getting new people along every day, across all fitness levels, from the super fit to those who haven't moved in ages. We do 8 movements for 30 seconds at a time, and then have a minute break, repeating the process three times. It's a really social, supportive environment, so it makes it easy for others to come and join in, and they are!
What does 2015 hold for FitFlock?
Good question. It holds finding our feet, a bunch of fun stuff, testing activities around Wellington, and building a team! We have an MVP (minimum viable product) we're about to kick off, and are hoping to get some funding from the government.
In 2015, I want to get New Zealand moving! We're based in Wellington starting at Parliament, where all of the decisions happen which seems like a great first logical place to start. FitFlock is all about helping NZ move in a better and more positive direction and by doing Boost classes by Parliament, lots of people see me and want to know what we're doing, which brings recognition to the cause behind FitFlock. It makes it really clear what we're about, and it gets the word out around the government that we're out there everyday, doing this thing for great impact. We also need to put the call out for graphic designers, more programmers, and a PR guru to help out and make FitFlock happen in 2015!
We've had so many contributors in so far and the list is growing. Is there a session(s) that sticks for you personally?
I've gotten something valuable from everyone! Chris Jupp has been epic – asking WHY over and over again has really messed my world up, while making it awesome at the same time. That was one of the early
sticking-memories. Other people have been the guys from Loomio, the way they approach things and do them has been thought provoking for me, I would love to learn more from them. Also enjoyed looking at the logic models of problem analysis in Dave (Clearwater's) Theory of Change workshop recently. It's hard to pick as all have been so valuable.
What have you taken away from the programme so far?
That delving into social issues and trying to create solutions is like opening a huge can of worms! That supportive environments makes it that much easier to delve into problems and figuring out solutions, and realizing that there will always be another whole depth of issues…no matter how many layers I work through the ones underneath are just as tricky!
Anything else to add?
Fitflock are wanting to expand and we're currently seeking graphic designers, coders/programmers, a PR guru and marketing genius to help us get this thing going. If you're interested in being a part of FitFlock, please get in touch with me here: yesbvd@gmail.com
Great chatting to you Bart, enjoy the can of worms, they sound like they're growing into delicious bites of healthy social enterprise goodness! I'm sure you'll get everybody moving over the Taranaki weekend meet up which Nelzy (Auckland's blog writer) will let everyone know more about in next week's blog!
http://livethedream.org.nz/wp-content/uploads/2016/07/HeaderLogo_LivetheDream.jpg
0
0
Rachael Short
http://livethedream.org.nz/wp-content/uploads/2016/07/HeaderLogo_LivetheDream.jpg
Rachael Short
2015-01-16 03:54:31
2015-01-23 01:21:00
Hip, Hoppin' and FitFlockin' // WGN Week 5.